14 Characteristics Of High-Performing Teams
Efficient teams are the hallmark of an industry-leading business. Having a cohesive, high-performing team can set your business apart within your industry and ensure the success of your organization in the long run. But what makes a team work well toward the same goals to drive your company's growth? There are obvious characteristics all performing teams share, from adaptability and strong communication to empathy and mutual respect. The key is spotting these characteristics and isolating them in order to train employees and identify them in future hires so as to achieve better teamwork.
In this Forbes Human Resources Council article, Jay Polaki, HR Geckos' Founder and CEO, shares what are the characteristics of high-performing teams.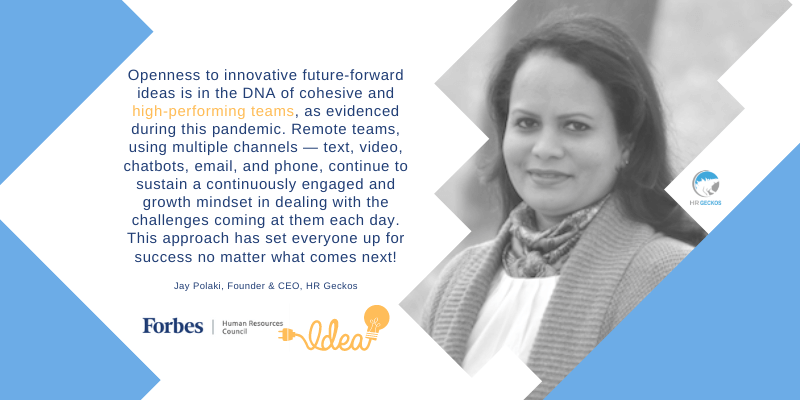 Openness to innovative future-forward ideas is in the DNA of cohesive and high-performing teams, as evidenced during this pandemic. Remote teams, using multiple channels — text, video, chatbots, email, and phone, continue to sustain a continuously engaged and growth mindset in dealing with the challenges coming at them each day. This approach has set everyone up for success no matter what comes next!
Learn more from Jay and her fellow Forbes Human Resources Council members on the aspects of these high-performing, cohesive units, and suggest ways your teams can achieve the same traits.
To read the full article, click here.