The Now Of Work: HR's Digital Revolution
The future of work is here and now. The impetus to rebrand our work cultures, strategies and codes of conduct is clear and present. No other crisis in the history of humankind has led to such mass adoption and acceleration of an HR digital transformation. Today, organizations are leading remote workforces that require digital HR tools. Virtually managed workflows, workforce planning analytics, AI platforms for candidate screening and onboarding, and using chatbots to respond to employee FAQs are not things of the future — they are here, and HR organizations that do not adopt quickly will fall behind their competitors.
In this Forbes Human Resources Council article, Jay Polaki, HR Geckos' Founder and CEO, shares about HR's Digital Revolution.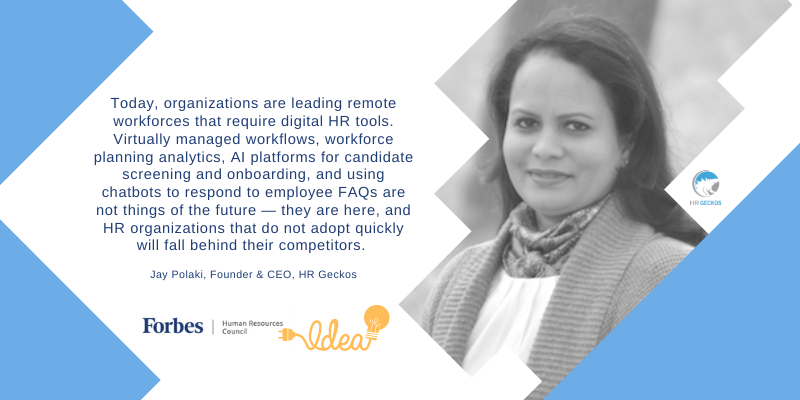 According to a 2019 survey, 17% of work is now done through automation. That's up from 8% three years ago and is expected to hit 30% in another three years, perhaps even faster due to the pandemic. Digital disruption is transforming HR at a much faster pace today due to the abrupt shift to a blended workforce model, where a remote workforce is more the norm than the exception and employees are more tech-dependent than ever before. They expect employers to provide a consumer-grade experience in the workplace. Virtual reality, chatbots and artificial intelligence are emergent technologies that are exponentially enhancing employee experience and productivity. Organizations that have only automated a few HR operations or have not automated at all will miss out on the benefits automation brings, including the competitive advantage of using HR data and analytics to boost the bottom line.
When planning to introduce HR automation to your organization, begin by gauging your team's mindset and upskilling your HR department. A digital-forward mindset and technical literacy are imperative to ensuring the success of your move into the cloud. Once your team is confident and ready, start with the fundamental processes before moving to more complex operations.
Learn more from Jay on HR's Digital Revolution.
To read the full article, click here.