15 Effective Ways HR Teams Can Leverage Big Data
Big data analytics is a familiar concept in executive circles. The insights yielded by gathered data can help companies improve productivity, increase customer satisfaction and even boost revenue. But is there anything data analysis can do to improve the efforts of an HR team? Studying workplace data can yield valuable insights to help HR teams improve not only their own work but the overall performance of their companies.
In this Forbes Human Resources Council article, Jay Polaki, HR Geckos' Founder and CEO, shares how HR teams can leverage big data.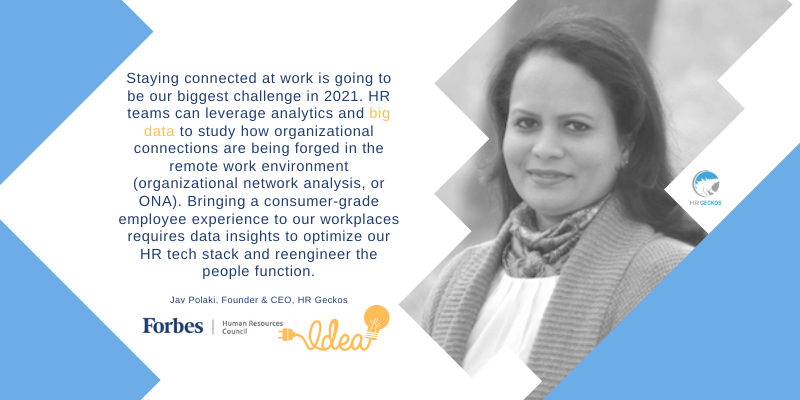 Staying connected at work is going to be our biggest challenge in 2021. HR teams can leverage analytics and big data to study how organizational connections are being forged in the remote work environment (organizational network analysis, or ONA). Bringing a consumer-grade employee experience to our workplaces requires data insights to optimize our HR tech stack and reengineer the people function.
Learn more from Jay and her fellow Forbes Human Resources Council members on how HR teams can leverage data analytics to improve their day-to-day operations.
To read the full article, click here.