Nine Tips For Offering Feedback To Unsuccessful Job Applicants
When you look at the employment market in the current economy, there's an excess of employees for certain positions. With so much competition, job seekers need to be aware of how to make themselves better. Therefore, applicants that were unable to get the job usually ask for feedback on their resume, interview, or both. By using your feedback, they try to tailor their tools to be successful the second time around. However, there's a right way and a wrong way to offer this feedback.
In this Forbes Human Resources Council article, Jay Polaki, HR Geckos' Founder and CEO, shares how to offer feedback to unsuccessful job applicants.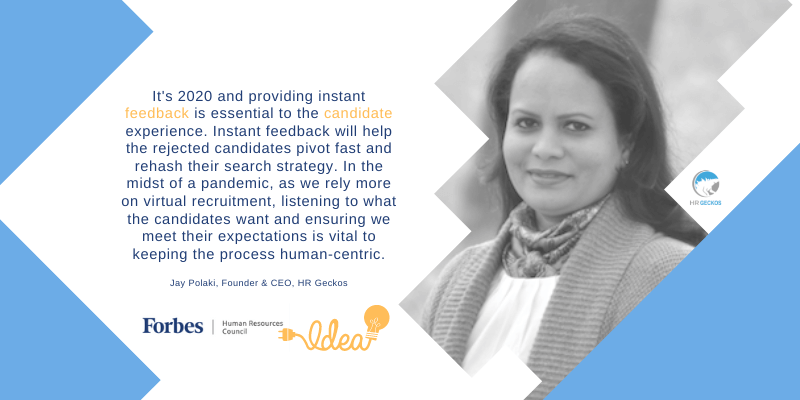 It's 2020 and providing instant feedback is essential to the candidate experience. Instant feedback will help the rejected candidates pivot fast and rehash their search strategy. In the midst of a pandemic, as we rely more on virtual recruitment, listening to what the candidates want and ensuring we meet their expectations is vital to keeping the process human-centric.
Learn more from Jay and her fellow Forbes Human Resources Council members on how businesses should aim to provide feedback to unsuccessful job applicants to help them land that next job interview and show off their true potential.
To read the full article, click here.