15 Cost-Effective Yet Practical Passive Recruiting Strategies
Passive recruiting is a useful method of reaching out to potential talent in a field, even when they aren't actively looking for a new position. Because of the nature of passive recruiting, it needs to be done in a way that doesn't seem heavy-handed. Many of the approaches that businesses use in practicing passive recruiting can be money-intensive. Other methodologies are challenging to implement because of a slew of factors. However, some ways are both affordable and practical in achieving the goals your business wants.
In this Forbes Human Resources Council article, Jay Polaki, HR Geckos' Founder and CEO, shares what are the various cost-effective yet practical passive recruiting strategies.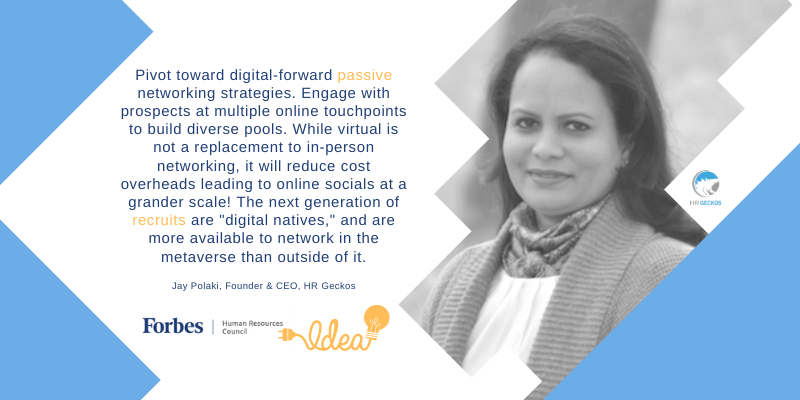 Pivot toward digital-forward passive networking strategies. Engage with prospects at multiple online touchpoints to build diverse pools. While virtual is not a replacement to in-person networking, it will reduce cost overheads leading to online socials at a grander scale! The next generation of recruits are "digital natives," and are more available to network in the metaverse than outside of it.
Learn more from Jay and her fellow Forbes Human Resources Council members on useful, cost-effective methodologies for passive recruiting they've seen success with.
To read the full article, click here.